Mindfulness you can use.
Do you face these life challenges?
Worry holds you back
Procrastination gets in the way of you achieving what you want
Fear of failure paralyse you
It's hard to achieve a sense of calm and serenity
You don't know exactly what you want
If you want more out of life and any of those challenges are getting in your way, the Mindfulness in ACTion program may be for you.
Mindfulness in ACTion
Mindfulness in ACTion is a 6-week program where you will spend 2 hours on a Tuesday afternoon learning mindfulness and acceptance skills, discussing your observations and getting in touch with what really matters to you.
Through this program, we aim to teach you two main skills;
1. Open up – How to get in touch with what really matters to you and how to distance yourself from thoughts and feelings that get in your way.
2. Get Moving – How to identify what is important to you in life and focus on taking consistent steps to achieve it.
What is involved?
Each week you take part in a range of exercises, activities and discussions aimed at helping you to make the most of every moment of your life. Some exercises involve sitting quietly for up to 10 minutes while being guided by the facilitators, others involve a bit of light physical activity, reflecting on your own experiences, or discussions with other participants. But don't worry! You don't have to take part in any exercise if you don't feel comfortable and there's no pressure to discuss your feelings or experiences.
Here is what the format of the 6 weeks typically looks like. Your program might look a little different to this as we adapt what we do to the group's needs.
Week 1: Increasing awareness
Week 2: Opening up to life and identifying your values
Week 3: Recognising barriers
Week 4: Getting in touch with your self
Week 5: Making a plan
Week 6: Committed action
What do we ask of you?
We know that the best way to learn a new skill, and to make it stick, is practice, practice, practice! We also know that it's a lot easier to practice new skills if you have a supportive group to keep you accountable. That's why we ask that you make some time between the weekly sessions (no more than an hour, usually less) to practice the skills you're learning in small groups.
This little bit of homework might involve practicing a short mindfulness meditation, or setting some goals for yourself, then meeting up with a few of the other attendees between sessions to discuss your experiences and try these exercises.
We encourage you to form these groups because we know that it provides an important means of support, it helps to consolidate learning and it encourages you to commit to your experience. Your groups can meet either face to face or virtually (depending on what works best for you).
While we think that this is an important part of the program, we acknowledge that this might not be possible for everyone and that's ok.
What is ACT (Acceptance and Commitment Training)?
ACT is an approach to dealing with the challenge of being fully human: how to make the most of every moment of your life. It brings together some traditional mindfulness practices (observing, focusing awareness, attending, labelling) with modern behaviour analysis methods. The combination helps you identify what is important to you – your values, then from a place of flexible awareness, consistently choose actions consistent with those values.
ACT has been extensively researched as a form of cognitive behaviour therapy (CBT) for nearly 30 years. In the last 15 years it has been transferred out of the psychology clinic and into everyday settings such as classrooms, businesses, sports and performing arts and communities. Long-term mindfulness practitioners have found that learning ACT helps them live fuller, more satisfying lives.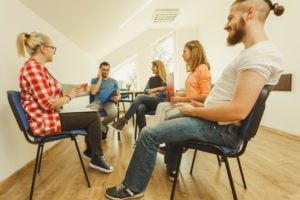 Is this therapy? 
Absolutely not! Your facilitators are experienced therapists and know the difference between doing therapy and teaching skills. This is definitely about learning skills so your can address obstacles and challenges in your life and develop a bigger picture of what your life could be. If you need to address emotional problems like anxiety or depression, or a more focused life challenge like relationship or family conflict, therapy might be a better fit for you. If you're not sure, feel free to call us before you register, and we're happy to have a chat about it.
I'm ready to register. What happens next?
Complete the subscription form on this page and we'll let you know when we're next running the program.
As part of the enrolment process we'll need you to complete a couple of brief questionnaires. We do this for two reasons:
We want to track the overall changes in the group of participants from before the program to afterwards so we can make sure what we're doing is effective.
We want to ensure that people participating in the program are not in a distressed state that might be better addressed by another means, such as individual therapy.
This program is not therapy or a substitute for medical or psychological treatment, so anybody facing those issues would be better off seeking the appropriate help rather than participating in the program. We can help with that too.
Of course, we will provide a full refund to anybody who has enrolled if we recommend they not start the program.
Refund Policy
Cancellation of registration:
Prior to the event: Full refund. Participants may cancel their registration without penalty up until 7 days prior to the event.
After the event registration deadline: Partial refund. Cancellations received less than 7 days before an event will incur a 30% administration fee (including GST).
The day before, the day of, or after an event: No refund. Cancellations received the day before, the day of, or after an event will not be eligible for a refund.
All cancellations must be made in writing to [email protected]